Goatscaping Rhode Island 401-996-3606
Landscaping goats, clearing brush to reclaim the backyard West Greenwich, Rhode Island
Goats manage invasive plants
Goatscaping is landscaping by goats. They are especially well suited to jobs that are not easily done by people such as poison ivy removal or clearing of stone walls or steep dams.
We have a large crew for big jobs and a smaller group for residential projects. We also employ large, medium and small goats to suite each projects requirements.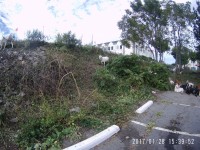 Goats removing poison ivy and other invasive plant species at the Cranston, RI Library
Advantage... Goats!
Landscaping, land clearing and invasive species management by goats has many advantages. It's carbon neutral, very quiet, goats can landscape terrain unreachable by their human colleagues and are not affected by poison ivy, oak or sumac. The waste they leave behind is fertilizer. Goats also goatscape around the clock, though they do sleep, they eat more than sleep.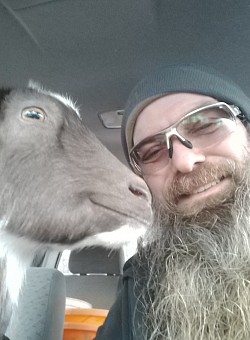 Goat milk soap makes us smile!
Goat's Milk Soap