The Goatscaping Process
Here in Rhode Island, our Goatscaping season starts around mid May and continues until the first or second week of October. Several factors influence our start and end dates, all of them controlled by nature.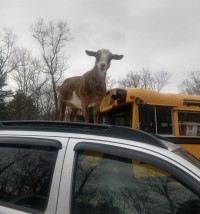 The entire process of hiring goats to do your landscaping is quite simple. First, we come out to you to see your project, give you a free estimate and put you on our schedule if you decide to go forward with our goats. Next, we usually set up your site the a day or 2 before we arrive. This includes cutting in paths for our portable fences and installing them. Our fences are solar electric. We then bring in the goats, the herder and everything required for the length of our stay. This may be in the form of a converted school bus that goats stay on  with the herder or a van and camper. During our stay we do generally ask for access to water for the goats, if that's not possible for any reason we can bring a very large water tank. Finally, when the goats have completed their task, we load them back up and remove the fence and anything else we may have brought in.