General Programs and Prices
To give you an accurate estimate we must see your project in person, the following is our general pricing guide and what we base our estimates on. Due to the extreme variation in terrain and density it is necessary for us to visit before we can accurately price your project.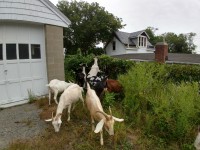 Our small crew of goats, Goatscaping. Reclaiming some land and fence!
Many residential projects only require a smaller crew of  10-14 goats and are usually complete in 12-48 hours. The cost for our residential crew is $450 for a half day up to 12 hours or $550 per full 24 hour day. All of our prices include set up , fencing and the herder.